Sanitation is critical in any food and beverage facility. It is not only important for public safety and the quality of the products – it's the law. The FDA Food Safety Modernization Act (FSMA), a large piece of legislation passed in 2011, put in place strict requirements for the food and beverage industry focusing on the prevention of foodborne illness and death. Even with these requirements in place, keeping facilities clean is a challenge. The CDC estimates that each year 48 million people (1 in 6) get sick, 128 million are hospitalized, and 3,000 die from foodborne diseases in the U.S. alone.
One of the most challenging areas to sanitize is the network of tubes and pipes inherent to most facilities. A common occurrence, a Dead Leg, is a well-known culprit for harboring contamination.
What are Dead Legs?
Dead Legs are portions of pipes and tubes that don't experience regular flow. This includes lines closed by flanges, welded caps or other fittings, or areas of piping or tubing that are only occasionally used. While these areas are common, they are not always visible. Without normal movement, or movement through these areas on a regular basis, liquid will collect and become stagnant – creating a Dead Leg.
Examples of Dead Leg configurations: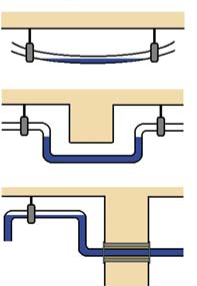 Image credit: ebrary.net/49819/health/hygienic_design_process_utility_piping
Why Should I Be Concerned?
Dead Legs are prone to corrosion and contamination from potentially dangerous water borne pathogens, including Legionella. Legionella bacterium are typically harmless and can be found naturally in water and soil. But, they can multiply in stagnant water and become a potentially deadly human health hazard by getting dispersed in fine mist/droplets via HVAC and other systems. Inhaling this bacteria can cause Legionnaires' disease -- a severe, often lethal, form of pneumonia.
What Can I Do About Dead Legs?
There are three recommended ways to tackle Dead Legs:
Completely remove the unused piping. Avoid simply capping since that will lead to stagnant collection.
Flush thoroughly and frequently with cleaning chemicals. A popular method is Cleaning in Place (CIP). If an area of piping is necessary, but used only occasionally, be sure to flush the pipes periodically to avoid as much stagnation as possible. Be aware that limited fluid circulation can leave pockets of cleaning chemicals/caustic, so ensure you're rinsing both the main pathway and secondary pathways. This will help ensure thorough rinsing of all chemicals from your system.
Manually clean. Using food safe brushes designed for reaching challenging sections of curved pipe, like Dead Legs, can help deter stagnation and clean out pockets prone to contamination.
The Manual Cleaning Challenge
These areas are often hard to reach with standard brushes. Our purpose-designed solution for cleaning not only Dead Legs, but also hard-to-reach tubes/valves including sight glasses, curved pipes and tubing for transferring liquids is our Flex Rod family of brushes. The key is in the helically-wound, stainless steel rods. They are flexible enough to bend around curves, but strong enough to give your tubes a good scrub. And, extension pieces offer you as much length as you need. All Flex Rod pieces are FDA-compliant and the brushes are available in 5 colors for HACCP food safety programs. The handle rod features a polypropylene grip and all pieces use special screw-in threads to securely attach the brushes and extension rods. We offer kits and à la carte pieces, so you can get the perfect set up for your cleaning needs.
Product Highlight
9-Piece Multi-Size Tube Brush Kit - 10ft Stainless Flex Handle

This kit includes the following items:
30.3" Flexible Stainless Steel Handle with Polypropylene Hand Grip
30.8" Stainless Steel Extensions for Handle (Qty. 3)
0.4" Narrow Stiff Bristle Tube Brush
0.8" Narrow Stiff Bristle Tube Brush
1.6" Stiff Bristle Tube Brush
2.3" Wide Stiff Bristle Tube Brush
3.5" Large Stiff Bristle Tube Brush
The hygienic polyester brushes can be autoclaved at temps up to 250°F, are available in 5 colors for HACCP/FSMA food safety compliance and made of FDA-compliant materials. More Flex Rod products can be found here.
Union Jack is here to help you solve your toughest sanitation and cleaning challenges.
Union Jack -- Your Partner in FSMA /HACCP Compliance
Recent Posts
EPDM stands for ethylene propylene diene monomer. It's a synthetic rubber that has quickly gained t …

Sanitation is critical in any food and beverage facility. It is not only important for public safet …

At Union Jack, we are committed to providing the best and highest quality product options for al …