You've probably heard the news -- the Food and Drug Administration (FDA) has designated beer as "food" as part of the Food Safety and Modernization Act (FSMA). There are now regulations that breweries need to follow to be compliant, and to keep beer and customers safe.
There are a lot of resources out there, but it can still be difficult to find FSMA regulations for brewers that are easy to understand. We've pulled together an overview with a focus on Good Manufacturing Practices (GMPs), also called Good Brewing Practices (GBPs). This overview gives you examples of what the rules are referring to and offers food safe tool options available to assist with compliance.

THE BASICS
FSMA signed into law in 2011
As of September 2018, all breweries, regardless of size, must comply with parts of FSMA
Designed to proactively manage food safety hazards involved with manufacture and transport of FDA-regulated food products
FDA declared alcoholic beverages (beer) as food
Breweries, wineries, cider producers and distilleries under direct FDA regulation in addition to TTB

THE REGULATIONS
Per CFR 21 Part 117, breweries must comply with following:
FDA facility registration (also must hold TTB license)
Compliance with definitions (staff knowledge and training)
Good Manufacturing Practices (GMPs)/Good Brewing Practices (GBPs)

Includes the proper management of spent grains/byproducts

Record-keeping
WHAT ARE GMPs/GBPs?
GMPs/GBPs are required by FSMA to assure your beer is wholesome, suitable for consumption and unadulterated. The regulations are broken into 9 categories:
Personnel (e.g., good hygiene, use of gloves/hair restraints, no jewelry/pockets, no food/beverages in production)
Plants and grounds (e.g., documented maintenance/pest control and proper drainage)
Sanitary operations (e.g., clean and sanitary conditions, proper storage of chemicals)

Food contact surfaces and utensils must be cleaned
Non-food contact surfaces must be cleaned (e.g., floors, ducts, pipes, tanks
Portable utensils and equipment cleaned, sanitized and properly stored
Minimize contamination risk and allergen cross-contact

Sanitary facilities and controls (e.g., suitable water supply, temp/pressure and waste treatment)
Equipment and utensils

Sanitary design
Constructed such that they are adequately cleanable and suitable for intended uses
Corrosion resistant, non-toxic materials, designed to withstand environment (safe with cleaners/chemicals), smooth seams to minimize accumulation of bacteria
Prevent cross-contact and contamination with chemical, allergens, etc.
Tool maintenance and tracking

Processes and controls (e.g., documented SOPs, proper management of raw materials and microbiology)
Warehouse and distribution (e.g., proper storage, temp control, processes to prevent damage/deterioration of equipment)
Holding and distribution of human food byproducts (e.g., management and storage of spent grains)

Must be held in a manner that prevents contamination (e.g., suitable, cleaned containers)

Containers must be designed, constructed of appropriate material, cleaned as necessary, and maintained in a way that protects against the contamination of human food byproducts for use as animal food (NOTE: contamination may be caused by physical, chemical, or biological contaminants)
Identified/labeled with common name
Must be protected from trash
Shipping containers/bulk vehicles examined prior to use to protect against contamination by the containers/bulk vehicles
Note: If spent grain is being sold/given to farmers for animal consumption, a food safety plan is not required. If it's being used for human food (e.g., spent grain bread) or being processed (pelletizing) for animal food, a food safety plan is required. Follow this link for a blog on Spent Grain FSMA requirements.
Defect action levels

Limits at which FDA will regard the food product "adulterated"

WHY ALL THE REGULATIONS?
While beer is inherently safe due to the brewing process – the boil, hops/bitters, ethanol, low pH, CO2 and lack of nutrients – the trends toward lower alcohol content (<1%), adding juices and absence of hops makes beer more susceptible to pathogens. There are real risks inside and outside of the brew process:
Physical

Glass, metal, plastic
Pests in grains
Allergens like peanut butter, chocolate, etc.

Chemical

Cross contamination from uncontrolled chemicals or unexpected ingredients

Biological

Aflatoxins and mycotoxins found in grains (mold)
Listeria in floor drains
"Dead legs" pools of water in plumbing are breeding grounds
Dry hopping with coffee or spices containing Salmonella

Mislabeling or misbranding
Package over-pressurization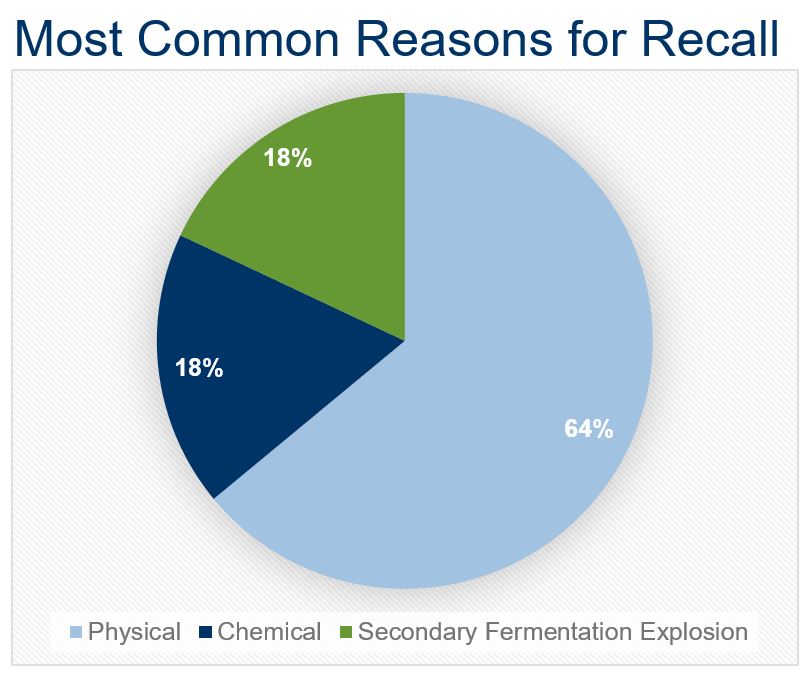 FDA AUDITS ARE INCREASING
The following best practices will help you avoid common citations:
Keep exterior doors closed for pest control
Keep glassware and food/beverages out of production areas
Utilize restraints for hair and beards in production areas
Properly store, label and track removal of spent grain
Properly document and sign SOPs (e.g., training procedures)
Validate CIPs and maintain supporting documentation
Prohibit cats in the brewery; not suitable as a means of pest control

HOW UNION JACK CAN HELP
Union Jack directly addresses 3 of the 9 GMPs/GBPs regulations:
Sanitary operations (e.g., clean and sanitary conditions, proper storage of chemicals)
Union Jack supplies:
Food contact approved, hygienic and easy to clean tools and containers
Brush program: Full line of tank, floor, drain, pipe/valve, and hand brushes
Bucket program: Buckets/lids and scoops for material handling
Color-coded to prevent cross-contact and contamination with chemicals/allergens

Equipment and utensils (e.g., sanitary design, cleanable, non-toxic materials, smooth seams to minimize accumulation of bacteria, prevention of cross-contact and contamination, tool maintenance)

Union Jack supplies:
FDA-Compliant, hygienically designed and easy to clean
Type 304 and 316 NSF stainless steel uses sanitary welds/smooth seams
One-piece plastic construction prevent harboring bacteria, minimize accumulation of food particles, dirt and organic matter
No wood or soft metals that splinter, hold bacteria, or corrode
Color-coded for clear identification and segmentation by process zone
Wall-brackets for proper tools storage and drying

Holding and distribution of human food byproducts (e.g., management of storage of spent grains)
Union Jack supplies:
FDA-compliant spent grain bins constructed as one-piece HDPE; easily cleaned
Won't be mistaken for trash can due to size, shape and color
Optional lids deter pests and improper use
Color-coded to provide an additional level of identification

YOUR PARTNER IN COMPLIANCE
Union Jack is here to help you with FSMA compliance by providing quality cleaning and handling tools, and containers for your brewery. Check out hand selected products in the Brewery section of our website.
Union Jack
Keeping it Clean Since 2006