Established in 1966, Dycem is a world-leading manufacturer of contamination control mats and flooring. They serve a number of industries that have clean rooms, critical areas and controlled environments including pharmaceutical, aerospace, semi-conductor, biomedical, hospitals, medical device manufacturers, automotive and food processing/packaging. Dycem contamination control mats and flooring are manufactured with a patented polymeric compound, creating a natural tack, impregnated with Biomaster antimicrobial technology, and manufactured to an optically smooth finish. This can capture and retain up to 99.9% of both foot and wheel-borne contamination and up to 75% of airborne contamination. In addition to this, the product's antimicrobial properties help inhibit the growth of over 20 organisms on contact, including E.Coli, Salmonella, Listeria, plus many more.
Correct Procedures for Cleaning Dycem Flooring
Cleaning your Dycem flooring system is quick and simple, and should be incorporated into your daily routine. This will protect your investment and ensure greater longevity of your flooring system. Dycem provides a step-by-step cleaning process for both fixed and floating flooring systems which outlines their approved cleaning solutions and tools. They offer specially designed cleaning wipes (70/30 isopropyl alcohol) to help remove built-up and heavily ingrained contamination spots. They recommend daily wet cleaning using the Vikan squeegee system and an approved Dycem cleaning solution (Dyclean Cleaner or Inspec N10 is recommended). The video below outlines the cleaning process including how you use the Vikan foam blade squeegee to agitate the cleaning solution into the soiled areas and remove excess fluids.
In high traffic areas where gross saturation occurs, Dycem offers a steam cleaning service to help eliminate and lift ingrained contamination. You should contact the Dycem customer service team to schedule a deep cleaning.
Dycem recommends against using concentrated bleaching agents, scouring or abrasive powders, stiff brushes, buffing or polishing machines. These will damage the surface and shorten the working life of your flooring system.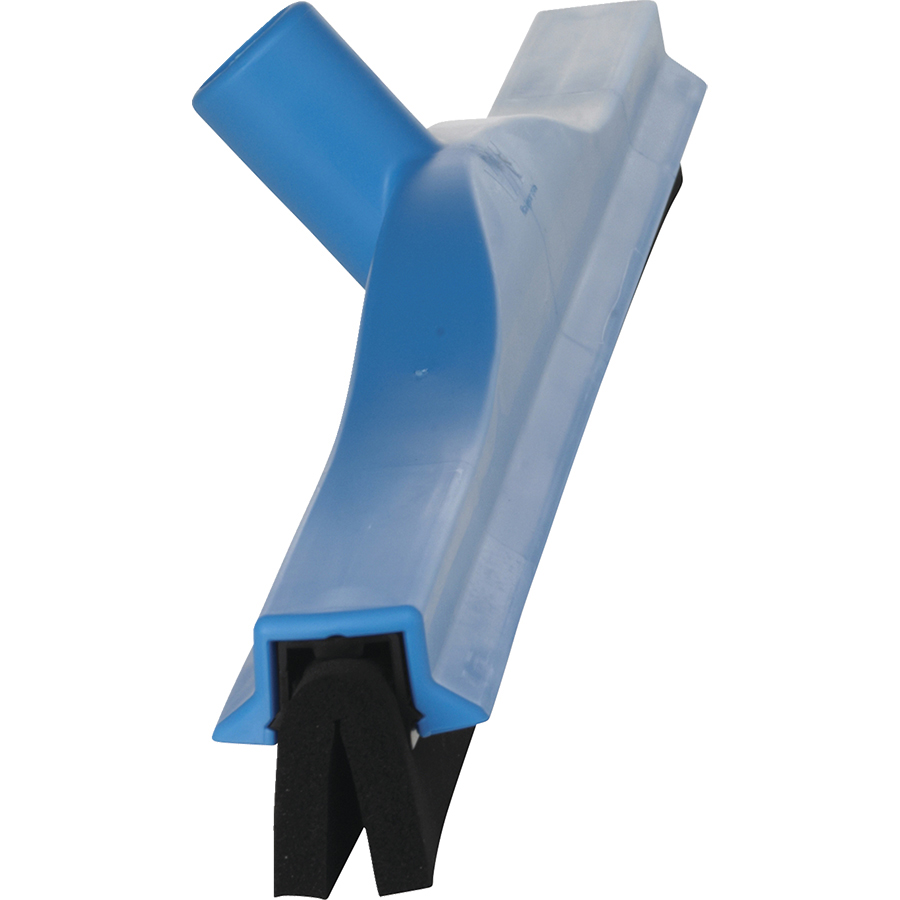 How Union Jack Can Help
Union Jack provides an extensive line of hygienic cleaning tools, including the Vikan floor squeegee system certified for use with Dycem polymeric contamination control mats and flooring. These high quality squeegees are very lightweight, durable and economical because of the replacement blade system. Simply replace the rubber foam blades when they wear out and keep cleaning! The rubber blades are soft and won't damage your Dycem flooring, yet still absorb cleaning solution and water as effectively as a sponge. This makes them excellent for cleaning floors and agitating stubborn debris. We carry a number of squeegee widths and handle lengths to match your requirements. The squeegee heads and handles are replaceable and interchangeable too, making this very versatile for many departments. You can use the filters to shop for squeegees in common widths like 16", 20", 24" and 28".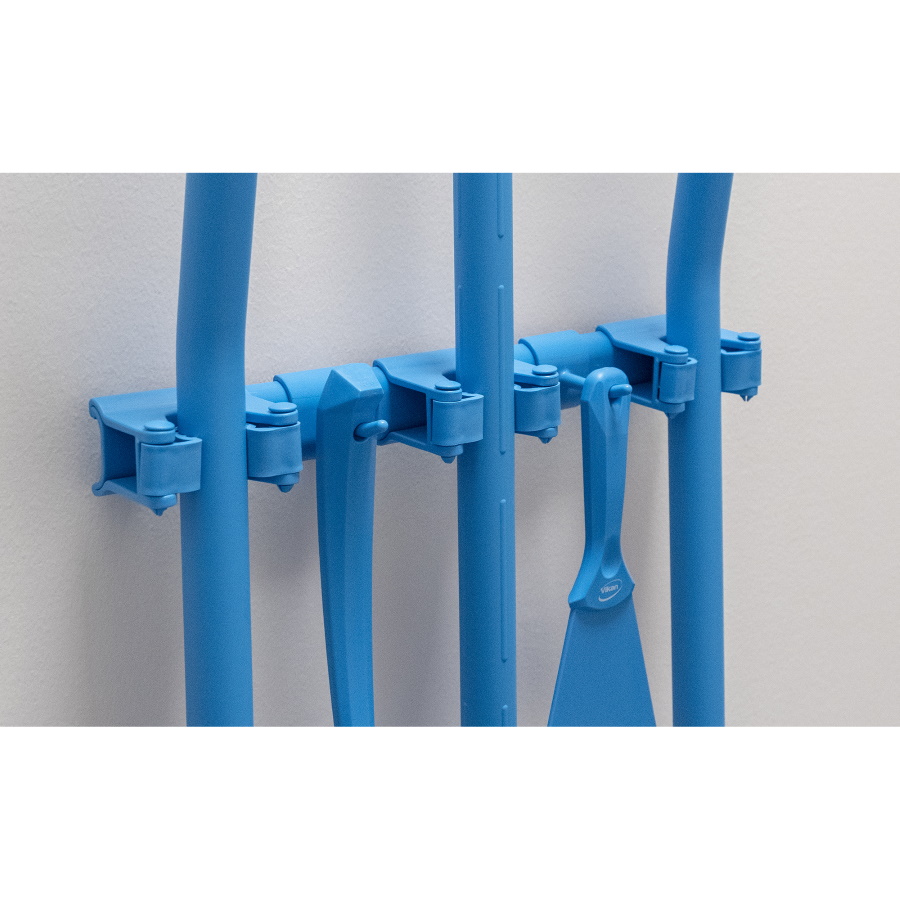 Because the Vikan squeegees are hygienic, cleanup of your tools is a snap. We offer a number of hygienic wall brackets to give your facility a way to properly store and dry the Vikan squeegees between use, extending their life. Both the squeegee and the wall brackets are color-coded in 5 colors to meet any HACCP/FSMA food safety programs. This provides for an effective way for your staff to know where to store these tools and bridges any communication/language barriers. We even carry a line of rubber-blade squeegees that provide the ultimate hygienic solution for floor cleaning. The rubber is soft enough to grab fluids without gripping/stuttering across the floor and the squeegees work bi-directionally (pushing or pulling) making them easy on your back.
If you want alternatives, we also carry the Hillbrush line of hygienic tools. They offer a 16" rubber blade squeegee that comes with replaceable blades.
Union Jack provides a wide selection of cleaning and handling tools for food & beverage manufacturers. We make it easy to shop for the right tools for your job. Our tools are hygienic by design, making them easy to clean. Most are made of FDA-compliant materials making them safe for food contact. We help you keep your facilities clean and safe. Have any questions about the correct tools for your application? Give us a call at 800-672-8119 or email us - we'll be glad to help.
Union Jack -- Your Partner in FSMA /HACCP Compliance
Keeping it Clean Since 2006
Recent Posts
At Union Jack, we are committed to providing the best and highest quality product options for al …

Brewer's spent grain (BSG) is a byproduct of the brewing process that accounts for approximately …

You asked and we delivered! Our customers were dissatisfied with the unsanitary and short-lived …