Employees can track in a myriad of potential contaminants and unknowingly put an operation at risk each time they enter a food production area. Shoes and boots are among the worst culprits in spreading harmful germs and bacteria such as Listeria Monocytogenes, Salmonella, and E. Coli. The effective use of disinfectant floor mats provides a significant defense against cross-contamination. They can be installed at every entrance to sensitive food prep areas. The employee steps into the mat and bathes their shoes in a disinfectant solution. The 2.5" tall wall of the floor mat allows the sanitizing solution to contact soles, sides and welt areas of boots, penetrating into deep treads. This mat has thousands of pliable rubber scrapers (shown below) that dislodge contaminants from footwear as the shoe soles are immersed in the disinfectant solution.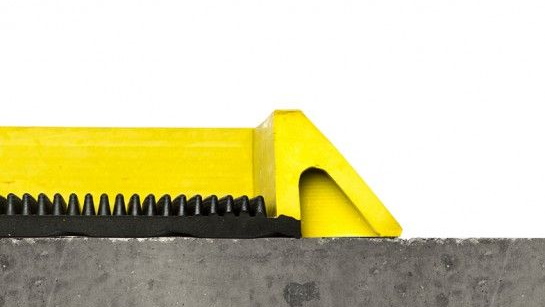 Sanitizing footbath mats provide critical protection from potentially deadly contamination and should be a part of your HACCP food safety plan.
Wearwell Tall Wall Sanitizing Footbath
Union Jack carries this sanitizing footbath from Wearwell that is designed and especially effective in food production facilities. It has a 2.5" tall wall that holds up to 5 gallons of disinfectant solution that reaches into the soles and deep treads of footwear, killing unwanted microorganisms on contact. This mat has thousands of pliable rubber scrapers that dislodge contaminants, dirt and grime from shoes. This sanitizing mat provides you critical protection from deadly contamination.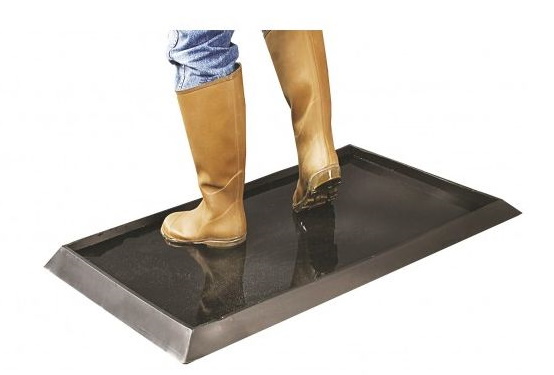 Features
Especially effective in food production facilities
Fill with disinfectant solution to destroy harmful germs and viruses
Pliable rubber scrapers dislodge contaminants from shoe soles
Choice of yellow or black edges
Chemically resistant to common disinfectant solutions
Commonly used solutions include quaternary disinfectants or a diluted chlorine solution
5 gallon (18.9 liter) capacity
2.5" depth
Large overall size 32" x 39" x 2.5"
The following suggestions can help you increase the effectiveness of your sanitizing floor mats in your facility:
Locate a mat at every entrance to food prep/processing or highly sensitive areas.
Post signage as reminders to employees to use footbaths upon entering food prep or sensitive areas.
Provide enough disinfectant floor mats so that employees don't need to go out of their way to use one; we recommend replacing regular floor mats altogether.
If employees are bypassing disinfectant mats, place several together or side-by-side to cover the whole entrance so they can't avoid them.
Initiate a footwear and protective clothing program so that work clothes and boots stay in the facility.
Use longer lasting sanitizing solutions. Chlorine bleach dissipates rapidly, especially in the presence of heavy organic soil. Try quaternary ammonium, iodine, chlorine or acid sanitizers which will last longer.
All mats should have a SSOP (Sanitation Standard Operating Procedure) written for proper care and use that include daily cleaning and regular testing of the concentration solution with daily/hourly logs of the results.

How Can Union Jack Help?
Union Jack provides a wide selection of industrial floor mats for food & beverage manufacturers including non-slip, anti-fatigue, ergonomic, sanitizing, resistance to oils/fats/grease, and anti-bacterial / anti-microbial. These drainage mats are excellent for contamination control and keeping your facility hygienic. Shop popular brands like Wearwell for food processing rubber standing or sanitizing mats from Union Jack. We make it easy to shop for the right tools for your job. We help you keep your facilities clean and safe. Have any questions about your application? Give us a call at 800-672-8119 or email us - we'll be glad to help.
Union Jack -- Your Partner in FSMA /HACCP Compliance
Keeping it Clean Since 2006
Recent Posts
Employees can track in a myriad of potential contaminants and unknowingly put an operation at ris …

Choosing the right shovel can make all the difference. Whether you simply require FDA/HAACP color- …

If tubes and valves are on your cleaning list, we've got the best brushes for you. Our selection of …