If you follow FDA recalls , the words "possible foreign matter contamination" are a very common (almost weekly) cause. Put simply, it refers to any extraneous matter, whether physical, chemical or biological, found in food. And remember, food includes beverages, bottled water and nutritional products. Typically, the foreign bodies render the food unfit for human (or pet) consumption. Recalls can be very costly for food manufacturers. Indirect costs of potential fines, lawsuits, stock value decline, and lost sales due to a negative public perception in the safety of your manufacturing operations can have a serious effect as well.
CAUSES
The recent spike in foreign-object contamination in meat and poultry is cause for concern. The root cause for contamination can vary. One 2012 study in the UK examined physical contamination by sub-category. Metal, plastic and glass account for half of the incidents. Of the 107 incidents, 32% were metal. That's not surprising given that most mixers, slicers and grinders can release metal shards and shavings into the product stream. And plastic machine guards, guides and other components can break down over time and become brittle. Material handling utensils like scrapers, scoops, shovels and brushes (especially bristles) can be dropped or break off if accidentally contacted with machinery. Employee equipment like gloves, protective wear, earplugs, pens, markers and clipboards can be misplaced or dropped and ultimately find their way into the product.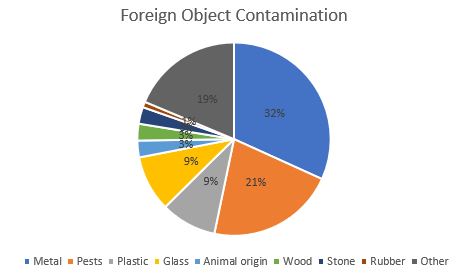 PET FOOD
Pet food manufacturers are not immune to recalls. In the past 10 years, there were approximately 173 recalls. Of those, 75% were due to contamination with salmonella, listeria and E. coli. Only 1% were due to foreign object contamination. The most popular pet food recall (known as the Great Pet Food Recall of 2007) was due to chemical contamination where the FDA found commercial pet foods containing melamine, a toxic industrial chemical that ended up poisoning and killing thousands of dogs and cats. As opposed to an animal drug, food for animals doesn't need the FDA's pre-market review to be legally marketed. This means that we often see pets get sick and die before the companies voluntarily issue a recall or remove tainted products from the shelves. See FDA's Regulation of Pet Food for more information.
PREVENTATIVE MEASURES
One of the most effective measures for mitigating the risk of foreign object contamination is employee training. Employees must understand the importance of food safety and where the risks are in the manufacturing process. Procedures must be documented, checked, and enforced as part of your Good Manufacturing Practice (GMPs) and Hazard Analysis Critical Control Points (HACCP). Training should be an ongoing and mandatory component to your hazard analysis program. Color-coding your utensils is a very effective way to visually train workers (especially across multiple languages) on work zones and application. Manufacturers should consider periodic self-audits. As you grow and demand increases on your workers, labor planning will ensure you are adequately staffed so that shortcuts aren't taken in your food safety plan. Your standard operating procedures (SOPs) should include regular inspection of machinery for loose screws and other objects that can contaminate food product. Routine equipment maintenance will reduce breakdowns and production lapses, but will also mitigate foreign object contamination by examining wear points on machines, ensuring proper alignment, sharpening/replacing blades, etc.
Technology can play a big factor when it comes to mitigating the threat of foreign object contamination. Metal detection, X-ray machines and magnets can be utilized in the manufacturing process to identify contamination. The material handling / inspection tools and utensils you use can be designed to be detectable, rejectable, shatter resistant, and brightly colored to give you an extra layer of protection. The key to a successful metal detection program is calibration. Every processing facility must calibrate its detectors to the food it is processing and then set them to a threshold. The threshold is determined by the company in regards to the size of contaminant it wants to reject. Other factors include the type of food, speed of line, and distance of the product passing under the detector. Metal detection is not an exact science due to many variables such as calibration, sensitivity, speed, settings and age of detectors. Please test all products before using.
DETECTABLE MATERIAL HANDLING AND FOOD INSPECTION UTENSILS
Union Jack carries only the highest quality metal detectable products from leading manufacturers like BST, Detectapro, Remco, Hillbrush, Harold Moore, and HellermannTyton. We offer metal detectable pens, markers, cable ties/zip ties, keyhole tags, badge holders, scrubbing pads, gloves, knives, scrapers, scoops, shovels and paddles. All of our metal detectable products are tested and designed to minimize contamination risks and improve food safety, and they come in color-coded options to further strengthen your HACCP program. They are 100% detectable and rejectable.
PRODUCT HIGHLIGHTS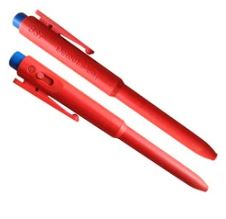 Metal Detectable Pens & Markers
We offer the BST Detectable Products/Detectapro brand of detectable pens and markers. BST is the leader in the industry. As the original developers of detectable products, they offer the highest quality products for use in hygiene critical food/beverage and drug processing environments. These pens and markers are designed to minimize contamination risks and serve as key components of successful HACCP/GMP programs. Our pens use top quality components, reducing the failure rate you experience in inferior/less expensive products. For example, our freezer pens use the Fisher Space Pen brand of pressurized ink cartridges that perform under the most extreme conditions -- in temperatures from -30ºF to +250ºF, underwater, in zero gravity, at any angle - even upside down. Manufactured in accordance with BRC 8 and FDA regulations CFR 21 177.1520 olefin polymers, the specially formulated polypropylene mix contains a detectable additive that is non-toxic. The bodies are shatter proof so they will not splinter into small segments, spring-free and designed without small parts, adhering to the BRC Global Standard for Food Safety, Issue 8, Clause 4.9.6.2. All ink is non-toxic, xylene free and low odor. Available options include stick pens with or without clip, retractable pens with clip or lanyard, rollerball pens, freezer pens, markers, hi-lighters, dry erase markers, permanent markers, pallet markers and meat & cheese markers. Click here to check out our pens and here for our markers.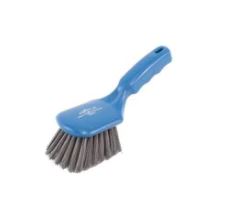 Metal Detectable Cleaning Brushes
We offer the Hillbrush Total MDX brushes specifically designed to minimize the risk of foreign object contamination in food processing. The block, filaments and resin are all metal and x-ray detectable for an added level of safety. The detectability of these lines have been tested using calibrated machinery and the detectable properties of the plastic used are not affected by time, moisture, cleaning or abrasion. All components are FDA and EU food contact approved. Click here to learn more about our fully detectable cleaning brushes.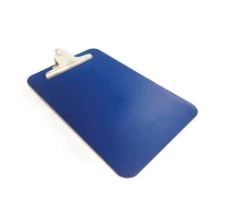 Metal Detectable Clipboards
Protect your workers from cross-contaminating the food production lines during inspection with these metal detectable clipboards made of plastic and stainless steel. They are lightweight, highly shatter resistant, as well as fully x-ray visible and metal detectable. Click here to check out our metal detectable clipboards.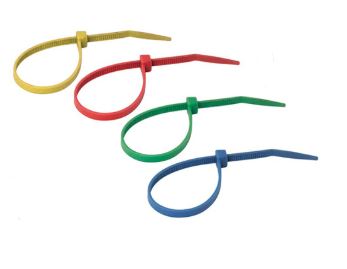 Metal Detectable Cable Ties
We offer the HellermannTyton brand of detectable cable ties. HellermannTyton is a global leader in cable management and protection products, identification systems and network connectivity solutions. Their innovative products are FDA-compliant and designed to meet the strictest quality standards while delivering reliable implementation. Proprietary processes in material development, delivery and manufacturing result in products that consistently perform beyond specification. HellermannTyton's metal detectable cable tie/zip tie was specifically designed to meet food safety standards. Purpose-built to minimize the risk of contamination and available in blue for high visibility and for color-coding, it's an essential product to help meet HACCP standards set in the food/beverage processing industries. A uniform dispersion of metal content in all cable ties and mounts, including the heads, makes fragments easily detectable. The result of HellermannTyton's design is a quality and highly reliable product key to reducing the risk of contamination and the possibility of costly recalls. Click here to check out our selection of cable ties.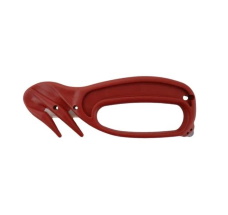 Metal Detectable Safety Knives
We have a full line of disposable and replaceable blade safety knives / cutters that are metal detectable. They easily cut or puncture netting, cable ties, cardboard and plastic shrink wrap packaging.Click here to check out our selection of metal detectable safety knives.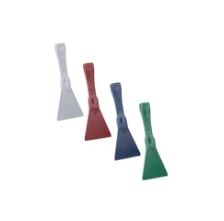 Metal Detectable Paddles & Scrapers
We offer the Remco and Harold Moore brands of detectable paddles and scrapers as part of our suite of metal detectable products. Remco is a leader in color-coded hygiene tools with a full line of color-coded metal detectable tools designed to help mitigate the risk of cross-contamination and foreign material contamination. Specially formulated FDA-compliant polypropylene resin is combined with a semi-ferrous additive, making tools identifiable by standard metal detection equipment. The tools are chemical resistant and autoclavable. The solid one-piece construction makes them easier to clean and prevents bacteria growth in seams or hard angles. The metal detectable line is available in four colors to support HACCP color-coding programs, and hygienic safety programs in food/beverage processing and pharma facilities. Click here to check out our metal detectable paddles and scrapers.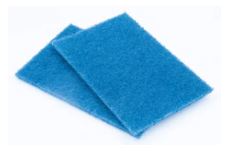 Metal Detectable Scrubbing Pads
These durable, long-life detectable cleaning pads reduce concerns of food product contamination and assists with HACCP requirements. Ideal for use on kettles, conveyor belts, fryers, ovens, bread & mixing equipment, grinders, and freezer belts. The blue color makes them highly visible, and it is detectable down to 1"x 1". The pad's components are GRAS listed (Generally Recognized As Safe FDA 21 CFR Sections 177 & 178). Click here to check out our metal detectable scrub pads.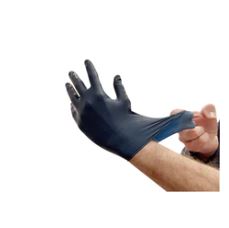 Metal Detectable Protective Wear
Protect your workers and reduce cross-contamination using these metal detectable disposable nitrile gloves and silicon earplugs. Click here to check out our metal detectable protective equipment (PPE).
These color-coded detectable tags are great for identifying totes, ingredient bags, racks or bins. They are available in keyhole, security tags and reusable plastic ID tags. Click here to check out our metal detectable tags.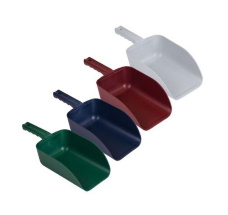 Metal Detectable Scoops & Pitchers
Our color-coded, metal detectable scoops & pitchers are excellent for handling materials or ingredients in areas of high sensitivity. Click here to check out our metal detectable scoops and measuring pitchers.

CONCLUSION
As outlined above, food and beverage manufacturers can take a number of preventative programs and measures to identify and mitigate foreign-object contamination. With the proper capital investments in equipment, utensils, and protective wear and employee training, the financial and health risks of a major recall due to foreign-object contamination can be reduced. It is important that your metal detection products are of high quality, thoroughly tested, and reliable. Make the right choice and check out all our metal detectable products at https://www.unionjacktools.com/metal-detectable-pens-tools/.
Union Jack -- Your Partner in FSMA /HACCP Compliance
Recent Posts
At Union Jack, we are committed to providing the best and highest quality product options for al …

Brewer's spent grain (BSG) is a byproduct of the brewing process that accounts for approximately …

You asked and we delivered! Our customers were dissatisfied with the unsanitary and short-lived …