Ten years after the passing of the FSMA food safety regulation in 2011, the Preventative Controls for Animal Foods Rule still holds animal food to the same standards as human food. Pet food (including dog treats and cat treats) manufacturers must adhere to GMPs and a written food safety plan that includes a hazard analysis and risk-based preventive controls to minimize or prevent the hazards.
Regulation Background
The U.S. Federal Food, Drug, and Cosmetic Act (abbreviated as FFDCA, FDCA, or FD&C) is a set of laws passed by Congress in 1938 giving authority to the U.S. Food and Drug Administration (FDA) to oversee the safety of food, drugs, medical devices, and cosmetics. Under this law, the FDA is responsible for making sure food for both people and animals is safe, properly manufactured, and adequately labeled. The agency is also responsible for ensuring that drugs for people and animals are safe, effective, properly manufactured, and adequately labeled and packaged. Even though most pet food manufacturers follow the guidance of the American Feed Control Officials (AAFCO) , the AAFCO has no legal authority over the food or its manufacturers. The FD&C Act requires that food for animals, like food for people, be:
Safe to eat
Produced under sanitary conditions
Free of harmful substances
Truthfully labeled
In 2011, Congress amended the FD&C Act by passing the FDA Food Safety Modernization Act (FSMA). FSMA strengthened food safety by requiring that food manufacturers prevent contamination instead of just responding to contamination. The law applies to food for people as well as food for animals, including pet food. With FSMA's Preventive Controls for Animal Foods Rule , animal food became subject to federal regulation holding it to the same standards as human foods. Specifically, this is Title 21 of the Code of Federal Regulations (21 CFR) part 507 (part 507), entitled "Current Good Manufacturing Practice, Hazard Analysis, and Risk-Based Preventive Controls for Food for Animals". This includes adherence to Good Manufacturing Practices (GMPs) and the development of a written food safety plan that includes a hazard analysis and risk-based preventive controls for animal food (PCAF) to minimize or prevent the hazards. Using a proactive approach to a food safety program, pet food manufacturers can establish risk-based preventative controls to protect from biological, chemical and physical hazards in manufacturing, processing, packing, and holding animal food. Your preventive controls qualified individual (PCQI) should prepare the food safety plan. The food safety plan should include, at a minimum, process controls, sanitation controls, supply-chain controls, recall plan and preventative controls. A separate Hazard Analysis and Critical Control Point (HACCP) plan should be used to perform an analysis and take steps to reduce or eliminate food safety hazards.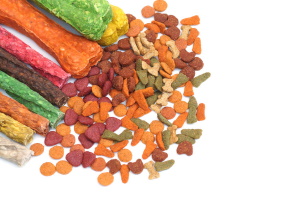 Mitigating Hazards with Preventative Controls
Knowing your animal food, ingredients, processes, packaging, transportation, distribution, and the use of the animal food is helpful in estimating the likely occurrence of known or reasonably foreseeable hazards. A detailed process flow diagram documents the steps involved in processing your animal food and its associated ingredients, from receipt of raw materials all the way through distribution. By describing the animal food and how it will be distributed, you will identify proper storage conditions and any special labeling requirements. Describing how the animal food will be fed to the animal (e.g., in pet owner's home, in the fields, or in a trough) helps determine which hazards require a preventative control. For example, consider hazards when the food is directly handled by humans and fed in the home. The storage and handling of raw ingredients can present a number of hazards. Are your raw materials particularly susceptible to any pathogens? Are you using proper, food-grade containers for the storage of ingredients to keep them safe from physical or chemical contamination from pests, trash or cleaning chemicals? Do you have proper temperature controls for your raw materials? Do your suppliers have food safety programs in place to protect your ingredients and not introduce contaminants into your supply chain? Do you have preventative controls in place to address each hazard?
In the past 10 years, 173 recalls occurred in the pet food industry. Of those, 75% were due to biological contamination with salmonella, listeria and E. coli. The most well-known pet food recall (known as the Great Pet Food Recall of 2007 ) was due to chemical contamination where the FDA found commercial pet food containing melamine, a toxic industrial chemical that ended up poisoning and killing thousands of dogs and cats. One way to mitigate chemical contamination is using color-coded buckets and containers for the storage of chemicals and food ingredients. Color-coding provides visual indicators for segmenting various zones, as well as applications. For example, use black for floor cleaning chemicals, drain brushes and brooms and blue for ingredients so that the two never cross-contaminate. Food manufacturers often use colors to identify allergens or to distinguish between raw and cooked meat. Color-coding is also excellent for overcoming language barriers.
Another hazard to pet food safety is foreign object contamination. In a 2012, UK study that examined physical contamination, metal, plastic and glass accounted for half of the 107 incidents (32% were metal). During the manufacturing process, physical contaminants like metal could break off from mixers, slicers or grinders. Broken plastic from something as simple as a ball point pens or plastic clipboards used by inspection staff could make its way into the finished product. Metal detection and x-ray systems offer an extra layer of protection. Many of the utensils you use in your facility can be purchased with shatter-proof and/or a metal detectable ferrous metal component to offer preventative controls for this hazard. For example, metal detectable safety knives can be used when opening ingredient bags so you don't contaminate the pet food product with broken plastic or sharp blades. Metal detectable pens and clipboards can equip your staff with the tools they need to inspect or document the food manufacturing process, with the necessary safeguards against foreign object contamination. Metal detectable shovels, scrapers or scoops mitigate the risk of plastic shards during material handling. Employees should be prohibited from wearing jewelry or clothing with pockets which could enable a foreign object to get into the food product. All brushware used in sensitive food areas (bench brushes, cleaning brushes, and brooms) can have special bristle retention systems to keep bristles from breaking off into the finished product.
Sanitation Controls that Improve Food Safety
You should consider the sanitary conditions within the facility (e.g., cleanliness of equipment and processing environment) and employee hygiene. This mitigates environmental pathogens and biological hazards due to employee handling. Recall that the GMPs include specific requirements for sanitation of the plant (see 21 CFR 507.19). These requirements are applicable to the cleanliness of equipment, utensils, buildings, structures, and fixtures. Do you have adequate wash-down stations to reach all areas of the facility with hot / cold temperatures? Is your staff using cleaning brushes, floor / drain scrubs, brooms, and squeegees to regularly clean surface areas, walls/floors and equipment in your plant? Do you have a regular maintenance plan for replacing worn out utensils? Are you color-coding your brushware and squeegees to minimize cross-contamination? Do you have dead legs in your tubes or plumbing that could harbor bacteria? Do you have sanitizing floor mats to remove debris and contaminants from employee footwear before entering the food production areas? Do your employees use protective personal equipment (PPE) such as hair nets, gowns, and gloves? Do you have the appropriate cleaning chemicals for all areas of your facility? Establishing risk-based prevention controls can make a meaningful impact on your food safety plan, but, more importantly, the safety of your consumers.

How Union Jack Helps Pet Food Companies with HACCP/FSMA Compliance
Since 2006, Union Jack has helped supply food & beverage companies with quality, food safe cleaning and handling products. We offer a number of categories of products that can help you keep your facilities clean and handle food. Below are some products that our pet food companies have used to successfully implement their food safety plans.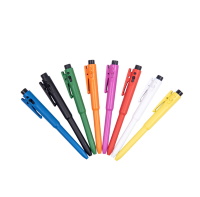 Metal Detectable Pens, Markers & Clipboards
If your staff are using standard ball point pens and markers in sensitive food production areas, you are at risk for the pen components making their way into the finished product and potentially harming someone's pet. A pen could be accidentally dropped into the food at any stage of the process and shatter into hundreds of pieces if it comes into contact with cutting blades. By using metal detectable and shatter-proof pens, markers and clipboards, your staff can safely inspect and document the manufacturing process with piece of mind. Our high quality pens are color-coded for HACCP food safety and easy detection, and they are both x-ray visible and metal detectable with most detection systems. This is a cost effective way to mitigate a very common hazard.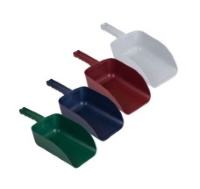 Hand Held Scoops
We have a number of food-grade, color-coded plastic scoops, metal detectable plastic scoops, and stainless steel scoops which are ideal for handling ingredients. They are hygienic by design, making them easy to clean. The metal detectable and stainless scoops protect from foreign-object contamination which is a major liability and safety risk for pet food manufacturers. The color-coding is excellent for segmenting allergens or sensitive ingredients. Popular plastic scoops include our 16 oz. Mini-Scoop, 32 oz Small, and 82 oz. Large Scoops. Some facilities use our one gallon mega scoops for larger ingredients. Stainless steels scoops offer a polished finish and the ultimate in durability. Many pet food companies like the 32 oz., 50 oz. and 128 oz. scoops. They come in long-handled versions should you need longer reach.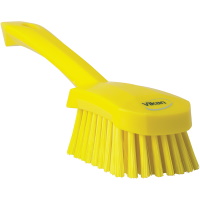 Hand Brushes
We have a large selection of color-coded cleaning brushes and brushes for handling food products. Our fine-particle baker's bench brush is excellent for handling fine powders. For facilities that want optimal bristle retention to mitigate foreign-object contamination, our Vikan Ultra Safe Technology (UST) brushes are an excellent choice. We sell a number of bristle strengths including soft, medium and stiff.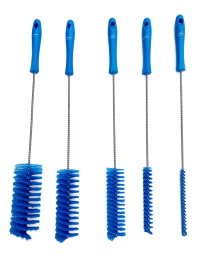 Tube & Tank Brushes
When it comes to cleaning curved pipes and equipment, our tube & tank brushes are very popular. They have durable, stainless steel shafts with bristles that don't fall out after moderate use. The 5-Piece Tube & Valve Brush Set is our most popular for pet food companies because it gives a number of brush diameters needed to clean various sized tubing.
Hand Scrapers
Our food-grade, color-coded plastic hand scrapers are excellent for preparing food. Our 3" and 4" hand scrapers are very popular with pet food manufacturers. We offer fully metal-detectable hand paddles and scrapers, too, if you want another level of protection since these are in constant contact with the food production lines where they could easily land in the finished product.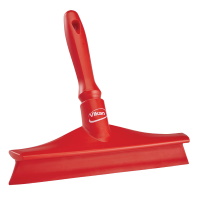 Bench and Floor Squeegees
We offer a number of bench top and floor squeegees for handling food ingredients or cleaning. Our 24" single blade squeegee is popular due to the hygienic, one-piece design. Our 24" double foam blade floor squeegee is ideal for pushing water over uneven flooring and has the economical benefit of replacement blades.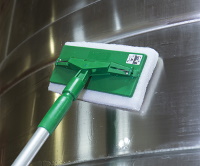 Floor & Wall Cleaning
We have a floor & wall cleaning kit with replaceable pads that is excellent for washing down walls and equipment in a pet food manufacturing facility. They are color-coded for segmenting different zones and offer replacement pads in normal, medium-duty and heavy-duty. The 10" High-Low Scrub is excellent for cleaning areas where the floor meets the wall. Our 10" Floor Scraper is perfect for removing stubborn debris from floors.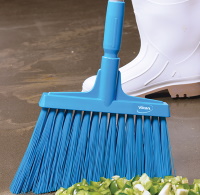 Brooms and Floor Scrubs
When it comes to cleaning your facility, our hygienic and long-lasting brooms are a great investment. We have many broom sizes, broom styles and handle lengths to make your job easier. The 12" Straight Broom, 16" Combo-Duty and 24" Small Particle Push Broom are very popular with pet food companies. Our upright dustpans or handheld dustpans are color-coded to match your brooms and zones to mitigate the risk of cross contamination.
Food Hoes, Rakes and Shovels for Material Handling
When it comes to moving bulk materials, our food hoes, rakes and shovels are purpose-built for the task. We carry color-coded plastic food hoes and hygienic rakes which are lightweight. Our one-piece shovels are not only lightweight, but color-coded, shatter-proof and available as metal detectable. And for heavy-duty material handling, we carry stainless steel rakes and food hoes.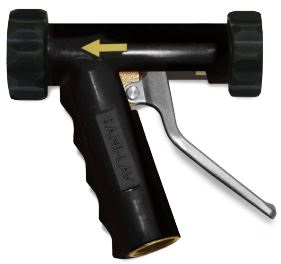 Wash-Down Nozzles and Hoses
Our quality spray nozzles and water hoses are ideal for cleaning and wash-down of equipment, floors and walls. We carry several different spray nozzles and hose lengths. They are rated for hot temps which are needed to kill bacteria on equipment and food-prep surfaces. If you're spending 90% of your time cleaning, you should have quality equipment that can hold up to the abuse!
The implementation of FSMA, and specifically the Preventative Controls for Animal Food rule, has helped further raise the bar for pet food safety, and that's a good thing for pets, pet owners and pet food makers. To members of the Pet Food Institute (PFI), representing 98% of U.S. pet food, food safety is no longer a competitive advantage. Industry-wide compliance results in a better outcome for all involved.
Union Jack provides a wide selection of cleaning and material handling tools for food & beverage manufacturers. We make it easy to shop for the right tools for your job. We help you keep your facilities clean and safe. Have any questions about the correct brush or tool for your application? Give us a call at 800-672-8119 or email us - we'll be glad to help.
Union Jack -- Your Partner in FSMA /HACCP Compliance
Keeping it Clean Since 2006
Recent Posts
At Union Jack, we are committed to providing the best and highest quality product options for al …

Brewer's spent grain (BSG) is a byproduct of the brewing process that accounts for approximately …

You asked and we delivered! Our customers were dissatisfied with the unsanitary and short-lived …