Choosing the right shovel can make all the difference. Whether you simply require FDA/HAACP color-coding compliance or also certain features like lightweight, non-sparking, reinforced, metal detectable or ergonomic design, we carry a variety of shovel styles and sizes to meet your needs. And, all of our shovels are approved for direct food contact.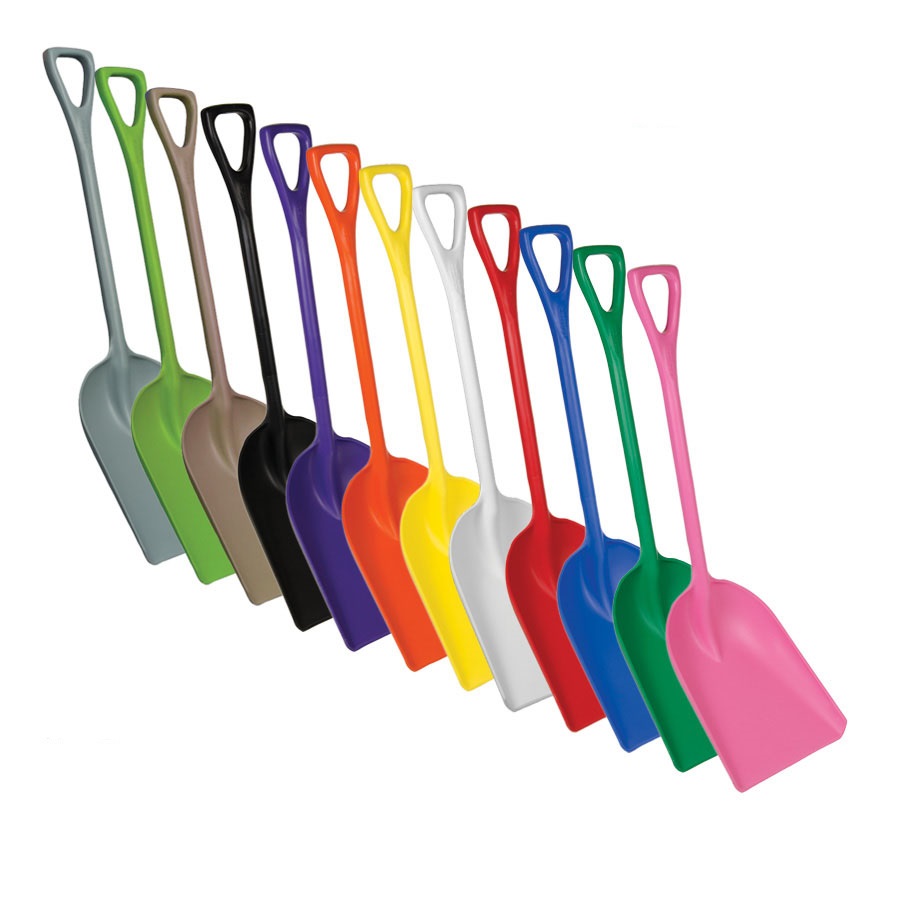 PLASTIC. Our durable plastic shovels are made from FDA-compliant polypropylene and available in many colors for HAACP programs. Hygienically designed for easy cleaning, they are rigid yet lightweight, non-sparking and chemical and corrosion resistant. These shovels can be used in general food handling applications such as dairy, seafood, poultry and meat. They are also appropriate for chemical and industrial applications. They are true industry standards.
Remco Small One-Piece Shovel with 10" Blade
Remco Large One-Piece Shovel with 14" Blade
Remco One-Piece Dual Grip Shovel with 14" Blade
Reinforced Ergo Shovel with Small Blade
Wide Ergonomic Shovel with Large Blade and 51" Handle

METAL DETECTABLE. Our metal detectable shovels are also molded from FDA-compliant polypropylene plastic. The semi-ferrous additive in these shovels allows for use in conjunction with metal detectable systems. Metal detectable plastic is a less costly alternative to stainless steel, and will reduce fatigue for the user. Ideal for facilities that want the lightweight and durable features of plastic, while meeting metal detectable requirements. These shovels are popular for meat, dairy, seafood, and poultry processing, as well as commercial fishing and other food handling applications.
Metal Detectable Small One-Piece Shovel with 10" Blade
Metal Detectable Large One-Piece Shovel with 14" Blade

STAINLESS STEEL. Our heavy duty, Type 304 stainless steel shovels are Certified NSF/ANSI Standard 2 - Food Equipment. These shovels are fully welded to ensure that there are no spaces where any particles can gather. Plus, they are completely seamless with large radiuses that insure easy cleaning. An electropolished finish enhances corrosion resistance, improves surface finish and also provides ease of cleaning. These shovels are important workhorses for any facility. Ideal for use with meat, dairy, seafood, poultry, commercial fishing, material handling, agriculture, chemical and industrial applications.
Stainless Steel Shovel - Square Blade
Stainless Steel Shovel - Rounded Blade
Stainless Steel Shovel - Flat Blade
Stainless Steel Shovel - Scoop Blade
Stainless Steel Reinforced Heavy Duty Scoop Blade
Our shovels are designed to help you make short work of moving your bulk materials. Let us help make your job easier!
How Can Union Jack Help?
Union Jack provides a wide selection of shovels for food & beverage manufacturers. We make it easy to shop for the right tools for your job. All shovels are hygienic by design, making them easy to clean. Most are made of FDA-compliant materials making them safe for food contact. We help you keep your facilities clean and safe. Have any questions about the shovel for your application? Give us a call at 800-672-8119 or email us - we'll be glad to help.
Union Jack -- Your Partner in FSMA /HACCP Compliance
Keeping it Clean Since 2006
Recent Posts
At Union Jack, we are committed to providing the best and highest quality product options for al …

Brewer's spent grain (BSG) is a byproduct of the brewing process that accounts for approximately …

You asked and we delivered! Our customers were dissatisfied with the unsanitary and short-lived …